Japanese Food Culture Festival in New York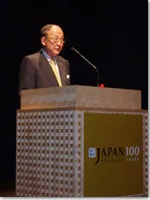 From March 4-10, the Japanese Food Culture Festival in New York: Flavors of Japan- Gastronomic Discovery was held. The weeklong festival was jointly organized by the Japan External Trade Organization (JETRO) New York; Nikkei America Inc.; the Japan Society; and other U.S.-based Japanese companies. The event introduced diverse aspects of Japanese food culture through several events that included a food show and food culture symposium.
The International Restaurant and Food Service Show was held at the Jacob Javits Convention Center, and attracted numerous visitors from the food industry. The show's Japan Pavilion presented a wide variety of unique Japanese food and ingredients, including rice, special Japanese beef, fruits and seasonings. Kikkoman International Inc., JFC International Inc. and other Japanese food-related companies offered information and tasting samples at their own individual booths.
A special event entitled "Gastronomic Discovery: An Evening of Japanese Food Culture," was held at the Marriott Marquis Hotel. Cooking demonstrations and tastings were given by American and Japanese chefs, providing a treat for the senses as guests experienced the wa, or essence, of Japanese cuisine. Corporate sponsors presented sampling corners: Kikkoman International Inc. served chicken wings made with its own "Takumi Teriyaki" sauce.
A Japanese Food Culture Symposium was held at the Japan Society, where Yuzaburo Mogi, Chairman and CEO of Kikkoman Corporation, gave the keynote address. Mr. Mogi described the characteristics of Japanese food and the role of soy sauce to an interested audience, who responded afterwards with enthusiasm during the follow-up Q&A session. A panel discussion was held which featured Japanese food expert Elizabeth Andoh, renowned chefs and other food authorities. This discussion enhanced an understanding of Japanese food, while underscoring the growing global interest in this cuisine.
Throughout the weeklong Food Culture Festival, about 40 participating Japanese restaurants around New York offered special menus and created exciting opportunities for New Yorkers to experience the remarkable variety and potential of Japanese foods.