Corporate / Management Business
JFC Joint Venture Established in China
On March 21, 2007, a signing ceremony for the establishment of the JFC Sheng Yuan Hong (Beijing) Trading Co., Ltd. was held in Beijing. The company is a joint venture (JV) between Pacific Trading Co., Ltd. and Beijing Sheng Yuan Hong Trading Co.,Ltd., a wholesale beverage company that covers the Beijing region.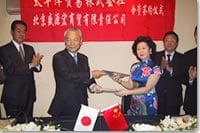 This new JV is the first to be established in mainland China by the JFC group, following on the setup of JFC's wholesale company in Hong Kong. It will fully utilize JFC group's expertise in the procurement of Japanese food products together with Beijing Sheng Yuan Hong Trading Co.'s distribution know-how in order to develop new markets in northern China throughout the Beijing and Tianjin areas for Kikkoman products and Japanese food.
By establishing this new company, the JFC group has taken a new step forward in developing the market for Japanese food within the expanding Chinese market; and with the summer 2008 Olympic Games fast approaching, it is expected that such exchanges between Japan and China will become increasingly active.
Under the corporate motto, "Quality Merchandising and Good Service," those at JFC Sheng Yuan Hong (Beijing) Trading Co., Ltd. are enthusiastic about deepening relationships between the two countries in food-related areas.