10th Anniversary of Kikkoman Group's Shokuiku Commitment: Food Culture Exchange in China
July 1, 2015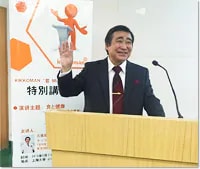 It has been 10 years since the announcement of Kikkoman's Shokuiku Commitment and the start of the company's shokuiku (food education) activities. There has long been concern in Japan about the diminishing importance of healthy eating, given today's busy lifestyles. A decade ago, Kikkoman launched a project team and began the debate about how to tackle this issue. They concluded that, as a company involved with food and food products, food education is an integral part of its business. In 2005, Kikkoman defined its food education strategy as "sharing food-related information, knowledge and experience for a delicious, healthy diet," and the company announced its official shokuiku slogan, "seasoning your life."
Since Expo 2010 Shanghai China, Kikkoman has been holding special lectures twice a year at Shanghai University. The theme of this spring's lecture, held in April, was "Food and Health," and was based on Kikkoman's food education activities. The lecturer was Dr. Yoshiro Kubota, director of Kikkoman General Hospital, originally established for the local people of Noda City in Chiba Prefecture, where Kikkoman first began brewing soy sauce. For 100 years, the hospital has been supporting both the health of Kikkoman employees and families, and of local residents. The hospital is managed by Kikkoman, which, from its standpoint as a food company, promotes the concept of health maintenance through food- and health-focused operations.
In his presentation at Shanghai University, Dr. Kubota discussed Japan's changing food habits and the increase in obesity and lifestyle-related diseases. He also touched on the importance of nutrient balance, the relationship between washoku (Japanese cuisine) and Japanese longevity, and how soy sauce and other fermented foods have a positive effect on health. Of particular interest to the audience was his comparison of various medical data from Japan and China, which indicate the growing prevalence of certain similar diseases in both countries. Dr. Kubota explained that these diseases are related to changes in food habits, including excessive consumption of fats and animal protein, and going without breakfast. Dr. Kubota concluded by reminding the young student audience of the importance of food in our daily lives, and that "Eating is living." Shanghai University students also made presentations related to differences between Japanese and Chinese food cultures, including the topic of food labeling. Through mutual exchange, this event provoked meaningful dialogue and encouraged reflection on food and health.

Kikkoman does not believe that "delicious memories" are created simply by eating delicious things. What most people recall are not the foods they have eaten, but those events where they are happily surrounded by friends and family, enjoying home-made dishes.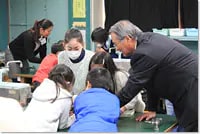 "Delicious memories" are made when we share food with those we cherish. Through its business, and with the slogan "seasoning your life," Kikkoman continues to help create these delicious memories around the world.