April 2016
Japanese Cuisine Around the World
Our annual Special Report takes a look at people who are introducing Japanese cuisine around the world. This issue features Fumio Ito, former sushi chef at Germany's very first Japanese restaurant, and later the founder of Restaurant KIKAKU in Düsseldorf. Here, he reminisces about his experiences in bringing the tastes of Japanese food culture to Germany.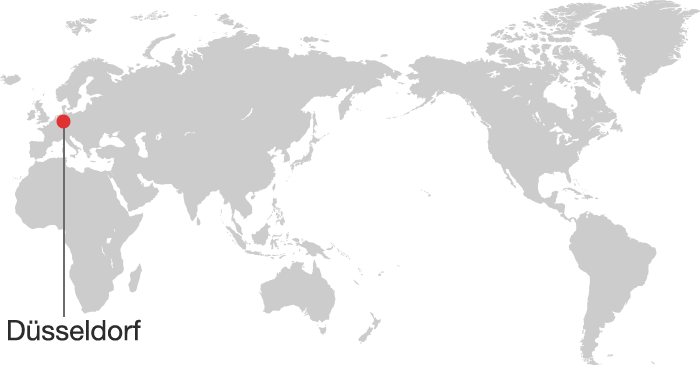 Fumio Ito
Born 1937, Chef Ito began his apprenticeship in Tokyo at Ginza's Kikaku restaurant in 1953. In 1959, he worked as the first sushi chef in Hong Kong, then moved to Germany in 1964 to work at Nippon-Kan in Düsseldorf, Germany's first Japanese restaurant. In 1977 in Düsseldorf, he opened his own business, Restaurant KIKAKU, and currently acts as advisor to its management company, Dream Team Düsseldorf GmbH. In 2013, Chef Ito received the prestigious Minister's Award for Overseas Promotion of Japanese Food from the Japanese Ministry of Agriculture, Forestry and Fisheries.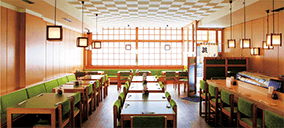 Restaurant KIKAKU
Klosterstraße 38, 40211 Düsseldorf, Germany
Tel: +49 (0)211 357853
www.kikaku.de
Germany's First Japanese Restaurant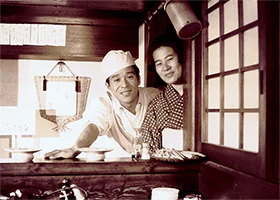 The Nippon-Kan restaurant was established in Düsseldorf in 1964, under the auspices of the Japanese government and the support of several Japanese corporations. The restaurant was envisaged as a project to introduce Japanese culture to Germany, and as a center of friendship and exchange. Nippon-Kan was Germany's very first Japanese restaurant: the first floor featured zashiki (a tatami room), a tea ceremony room, a tempura counter, table seating and a courtyard garden. My workplace, the sushi section with counter and tables, was in the basement. There were about 600 Japanese living in Düsseldorf at the time, mostly men posted overseas without their families. Our clientele consisted mainly of these men and the business people they brought in to entertain. At first, Germans would mostly eat tempura or sukiyaki, and try one or two single pieces of sushi afterwards, as they were unfamiliar with eating fish raw. Only Japanese customers ordered sushi as a main dish.
We had great difficulty getting ingredients in the early days of the restaurant. We could not import rice from Japan, and when we cooked locally bought rice, it wasn't sticky enough. We had no wasabi either, and had to make do with horseradish. For fresh fish, we would go to Hamburg, the closest German city on the sea. We could get cod, herring and flounder, but that was not enough for a good array of sushi, so we would go to Rotterdam or to Ostend port in Belgium. After a while, we began to drive about once a week to the Paris fish market as well, where they sold plenty of fish and seafood from the Mediterranean. In the beginning, we brought in our own nori dried seaweed, soy sauce, sake and other items by container shipment from Japan; later, things got easier when we began to purchase them through Pacific Trading Co., Ltd. (today JFC Japan Inc.), a member of the Kikkoman Group.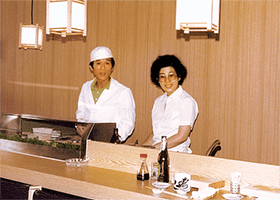 In 1977, I opened Restaurant KIKAKU in Düsseldorf, a Japanese restaurant featuring mainly sushi. At that time, Japanese restaurants here were expensive places where Japanese entertained clients, but Restaurant KIKAKU served sushi and home-style dishes at reasonable prices. Obtaining a business permit was an arduous process, and once I got past that stage, I had to raise funds to get started. We did our best to keep costs down, like painting the walls ourselves. From the time we opened, there were lines outside the restaurant for both lunch and dinner, which luckily has continued ever since. To accommodate guests outside in line, we only accepted reservations for seats within one hour from opening time. Dignitaries and celebrities came, but we asked them all to line up like everyone else. Sharing tables with strangers is generally not done in Germany, but we explained this Japanese practice, and got people to adopt this custom.
The items on the menu that were most popular were home-cooked dishes like tatsuta-age deepfried marinated chicken, kinpiragobo sautéed burdock and carrot, and salmon dressed with unohana bean-curd lees. Sometimes we made udon noodles and even pounded mochi glutinous rice cakes. In the early days, I only slept about four hours a night, but luckily, just before opening, I had found an apartment in the same building as the restaurant, which made life much easier.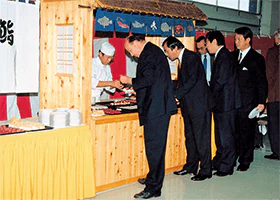 The restaurant closed on Saturdays, when I would often travel to countries in Eastern Europe, responding to requests to make sushi for company parties or for special events. Once, I went to make sushi for the Japanese Club in Poland. I cooked the rice beforehand, placed it in a rice server (ohitsu) and had to put it into checked baggage. At the baggage claim carousel, I found that the server had broken and the rice had spilled out. Local households quickly helped out by bringing in their rice cookers, and we cooked up fresh rice.
Popular Sushi and Good Sushi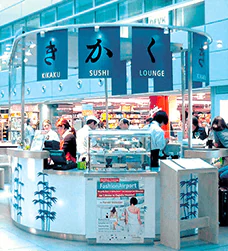 Today, 39 years later, 70 percent of our German customers order sushi or sashimi. Düsseldorf is more international than most other German cities, so people here have no qualms about eating raw fish. In fact, sushi has really become part of the local fare, and is sold in supermarkets here. Restaurant KIKAKU also has a sushi shop at Düsseldorf airport, and one customer from Stuttgart who eats there about once a month says, "This is the only place I can get such good sushi." Now that sushi has become popular, it is important more than ever to provide really good sushi.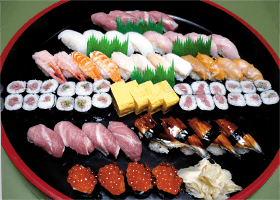 The basic spirit of service is a feeling of gratitude on the part of the person providing it, what we call in Japanese omotenashi, or "hospitality." Also, tidiness and cleanliness are essential to the restaurant business, so those are the very first things we make sure our young staff master thoroughly. Young people trained at Restaurant KIKAKU who later move on to other shops win praise, because they have mastered the fundamentals that prepare a person to be a professional chef. I hope that every young person who works in a restaurant will dream of owning their own. Some of our people have left Restaurant KIKAKU to set up business in Berlin, or even in other countries. If they have been properly trained and have confidence in what they do, customers will come to them, even if their shop might only have 10 seats.
Photos courtesy of Fumio Ito