April 2018
Japanese Cuisine Around the World
Each year, Food Forum presents a Special Report that takes a look at people who are introducing Japanese cuisine around the world. In this issue, we feature Japanese food pioneer Tsuneyasu Kondo, founder of a Japanese food import business in Vienna, Austria.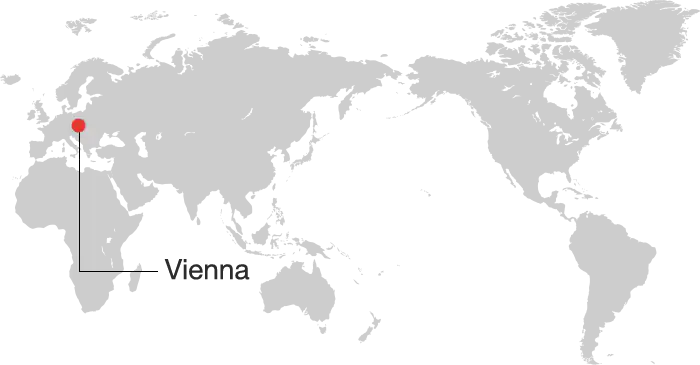 Tsuneyasu Kondo
Born in 1931, Mr. Kondo moved to West Berlin in 1960 where, with his brothers, he established a Japanese food import business. In 1965, they opened Restaurant Tokyo there, followed by outlets in Vienna and London. In 1974, he founded Nippon-Ya, where he is currently management advisor; in 2006, with his daughter, he opened Cha No Ma. Mr. Kondo received the Minister's Award for Overseas Promotion of Japanese Food from the Japanese Ministry of Agriculture, Forestry and Fisheries (2015), and is the recipient of the Order of the Rising Sun, Gold and Silver Rays (2016).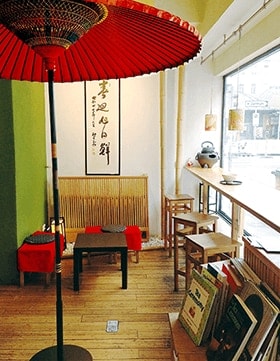 Nippon-Ya
Faulmanngasse 5, 1040 Wien, Austria
Tel: +43 (1) 586 1084
www.nipponya.at
Cha No Ma
Faulmanngasse 7,
1040 Wien, Austria
Tel: +43 (1) 587 9406
www.chanomavienna.at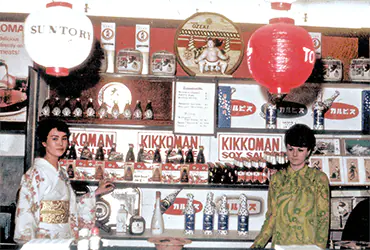 I was born in 1931 in the Korean city of Keijo, now known as Seoul. My elder twin brothers were also born there. Soon after my birth, my father was sent on a research trip to Europe. He spent about a year there, and returned home with a mountain of souvenirs. After he suddenly passed away, our family returned to Tokyo, but living among my father's souvenirs, my brothers and I talked constantly about how we'd go overseas to work when we grew up. After the long and arduous war ended, we once again dreamed of going to Europe. My brothers went there first and I joined them in West Berlin in 1960, where we established a company to import Japanese goods. However, the following year, the Cold War worsened and the Berlin Wall began to go up, throwing our company into crisis. Meanwhile, the West German government launched a plan to establish a large international center in the heart of West Berlin in order to invigorate the economy. We were asked to open a Japanese restaurant there, and it was this unexpected opportunity that plunged us into the world of Japanese food culture.
Thus it was that we three brothers established a Japanese restaurant called Restaurant Tokyo in West Berlin in 1965. Inside the glass-fronted restaurant, which was in one of the city's best locations (Europa-Center), we had a showcase to introduce Japanese products. We advertised on opening day in rather flashy style with a parade of our staff dressed in kimono, riding in a convertible from the airport into the city. This strategy worked, and the 100-seat restaurant was packed full.
There were few Japanese in West Berlin in the mid-1960s, so most of our patrons were German. Only a few could use chopsticks, so we set the tables Western-style and Kikkoman made chopsticks for us, which became great customer souvenirs. There were a few moments of excitement, like when someone poured dipping sauce right over the noodles on the zaru bamboo noodle mat, or ate the raw meat while the table-top sukiyaki pot was still warming up—but overall, we got off to a good start. The most difficult task for us was adapting the serving of dishes to customers who had never eaten Japanese food in its original setting. For example, if we served the same modest amount of tempura as we would in Japan, we faced complaints that the quantity was too small. But if we accommodated German expectations, our Japanese customers would remark that the amount of food was way too much. We were very fortunate to find a head chef endowed not only with excellent Japanese culinary skills, but with a flexible mind-set for managing the restaurant to suit the local clientele. In 1970, we established a chain of Japanese restaurants by the same name in London, and in Vienna in 1972. For the 1972 Munich Olympics, we provided Japanese meals for the Japanese team and for Japanese visitors who came to see the Olympics.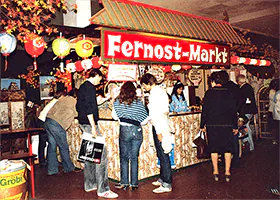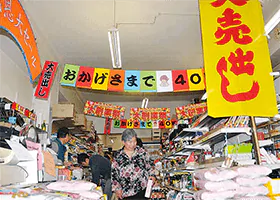 In 1974, we opened a Japanese food import business called Nippon-Ya in Vienna. The Cold War was still on and this business allowed us to support those Japanese residing not only in Vienna, but in other parts of Eastern Europe, who had difficulties obtaining Japanese food products and household items. That experience has continued recently in our work to supply Japanese food ingredients to Middle Eastern countries and the Balkan region. One of Nippon-Ya's major objectives is to introduce Japanese food to locals, so it has been actively engaged in public relations activities, such as holding a "Japan Week" in local department stores or setting up large booths at major fairs and exhibitions.
In the 1980s, both of my brothers passed away, so I decided to withdraw from the restaurant business. I do, however, remain involved with the supply of Japanese ingredients for the many Japanese restaurants now in Vienna and in neighboring countries. About 80 percent of the Nippon-Ya clientele is local. In 2006, at the suggestion of my daughter, we opened a "Japanese tea room" called Cha No Ma adjacent to the Vienna Nippon-Ya. The tea room clientele is almost 100 percent local; it is a small establishment, but popular with young people.
Recognizing Japanese Food
Importing food products from Japan ran into serious problems following the Great East Japan Earthquake in 2011, but my daughter, who has been in charge of managing the business, made several appearances on Austrian television to present the case for the safety of Japanese food. Our shops quickly collected about 1.5 million yen in donations for the recovery effort in East Japan, with which we purchased five electronic pianos, as representing Vienna, the "city of music." These pianos were donated to elementary and junior high schools in the affected areas. We believe that these gestures of generosity were made because of our customers' familiarity with Japanese food.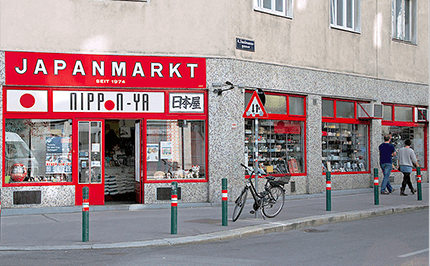 When we first opened our Japanese restaurants in Europe, Japanese food and food products were little known, but today there are likely very few people who do not know what sushi is, and many can use chopsticks quite skillfully. There are now over 300 restaurants in Vienna which include some kind of Japanese food—particularly sushi—on their menus, which is impressive in a city of just under two million. This transformation is something that fills a pioneer like me with tremendous joy and satisfaction. Another thing we have always tried to do is to be conscientious, to always consider the standpoint of our customers and to adapt our business to the realities of the marketplace. I am greatly encouraged to see that this principle is shared by all of our employees.
Photos courtesy of Tsuneyasu Kondo