April 2019
Japanese Cuisine Around the World
Food Forum's annual Special Report recognizes chefs, restaurateurs and entrepreneurs who have been promoting Japanese food culture throughout the world. This year we feature Tetsuro Hama, who runs both a Japanese restaurant and a cooking school in London.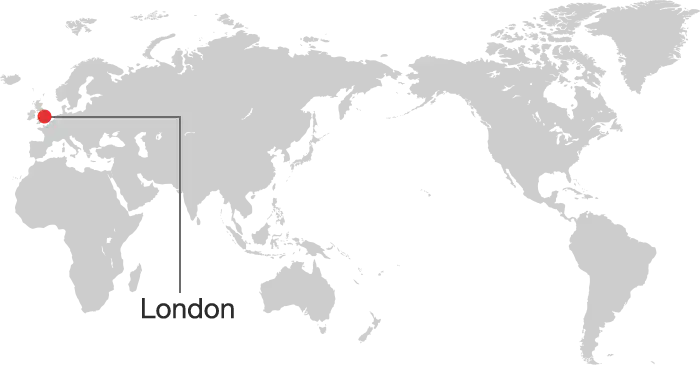 Tetsuro Hama
Born 1948. Relocated to the UK in 1973. Founded Japanese Grill Room Hama in 1973, YAKINIKU HAMA in 1976 and So Restaurant in 2006. Established the Sozai Cooking School in 2012, private chef service eho chef in 2017 and bespoke Japanese chef service ikisho in 2018. Currently chairman of the Japanese Culinary Academy UK and board member of the Japan Society. In 2015, he received the Minister's Award for Overseas Promotion of Japanese Food from the Japanese Ministry of Agriculture, Forestry and Fisheries.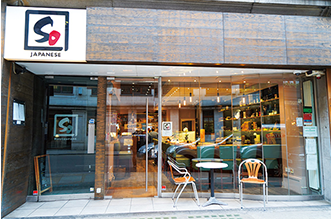 So Restaurant
3-5 Warwick Street, London W1B 5LS
Tel: +44 (20) 7292 0767
www.sorestaurant.com
Sozai Cooking School
5 Middlesex Street, London E1 7AA
Tel: +44 (20) 7458 4567
www.sozai.co.uk
eho chef
Hyde Estate Road, London NW9 6JX
Tel : +44 (20) 7183 1628
www.ehochef.com
ikisho
Tel : +44 (20) 7112 9365
www.ikisho.com
From Ethnic to Mainstream
In November 2018, I visited Tsuruoka in Yamagata Prefecture, in the northwest of Japan's main island of Honshu, for the first time. Four years previously, Tsuruoka had been designated as a UNESCO Creative City of Gastronomy—the only city in Japan to be so named. In 2013, "Washoku: Traditional Dietary Cultures of the Japanese" was registered by UNESCO as an intangible cultural heritage. The term "cultural heritage" seems to suggest traditional foods, but Japanese cuisine has long evolved through its broad and enthusiastic inclusion of other cultures. The original roots of sushi, for instance, can be found in fermented foods from other parts of Asia, but the prototype of what we think of as sushi today goes back to Edomae sushi, made in the city that is now Tokyo during the Edo period (1603-1867). Cuisines are constantly merging and undergoing organic change. Looking at recent trends, we see many cases where talented chefs around the world are working with Japanese ingredients and preparation methods, and many of those ingredients—miso, yuzu, wasabi, wakame—are turning up on European tables.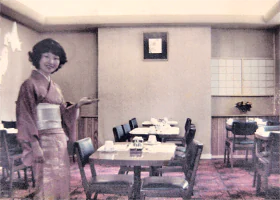 Japanese Grill Room Hama opened in 1973 in the Bayswater district of London. At that time, there were only four or five other Japanese restaurants in the city. It was uncommon then for Japanese to work overseas, and the notion of starting up a business in another country without preparation or training was considered reckless. I went ahead anyway, because I resisted submitting to the old stereotype that I had to start out washing dishes in other people's restaurants. I opened a Japanese restaurant in my early twenties without much money, few connections and little know-how about the food business. The menu was composed mainly of casual domburi dishes (meat and vegetables on a bowl of rice), yakitori and the like—food that Japanese students and company employees based in the UK could easily afford. Since that time, the number of Japanese restaurants in London has doubled about every five years, and by the late 1980s, there were about one hundred. As that number increased, so did Japanese restaurants run by non-Japanese, and in the 1990s, restaurant chains with names like Wagamama, Yo! Sushi, Itsu and Wasabi were proliferating under non-Japanese management.
Some frown on Japanese food restaurant chains that are not run by Japanese, but I myself believe they should be recognized as having contributed to the advancement of Japanese food. These days, there is almost no one in London who does not know what sushi is, and many are really fond of it. It may not be sushi as eaten in Japan, but it instigates the desire to eat authentic sushi, and appreciation for restaurants serving "real" sushi has grown considerably. Indeed, prominent dishes from Japanese cuisine such as sushi, tempura and ramen are at the top of the list of foods that the British want to eat. Forty-plus years ago, Japanese food was just one among many ethnic cuisines; today it is definitely part of mainstream dining.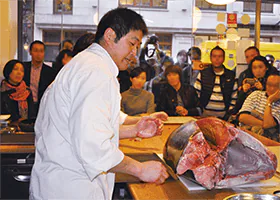 After starting my restaurant in 1973, in 1976 I opened a second place called YAKINIKU HAMA. I later pulled out of the Japanese restaurant business in 1983 to concentrate on a car dealership I had started in the UK in 1979, and did not return until several years after 2000, when I sold the dealership. When I found out that the chef who helped me start my restaurant in the early seventies was returning to London, I opened So Restaurant near Piccadilly Circus in 2006. This chef was in fact a specialist in French cuisine and had gone back to Japan to run a French restaurant there. With the boom in Japanese cuisine, Japanese restaurants had to develop specialties to set themselves apart, and at first, the So Restaurant trademark was Japanese food with a bit of French style. However, our customers had high expectations regarding Japanese cuisine, so now we serve contemporary Japanese food with European influences.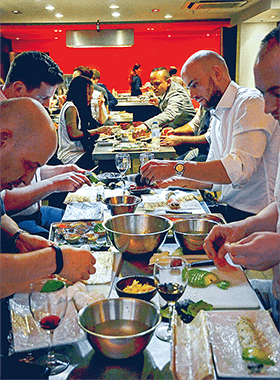 Following this, I started Sozai Cooking School, the first cooking school specializing in Japanese cuisine in the UK. Its purpose is not so much to train professional chefs, as to respond to people's interest in making their own sushi, ramen and other Japanese dishes. We offer classes that anyone can attend. Among the 60 percent to 70 percent of women attending the school are a few men striving to master the tricks of making rolled sushi, and couples having fun learning to make ramen. Most of our instructors are Japanese home cooking experts, but they also occasionally include the head chef of a famous Japanese restaurant. Sozai has invited chefs from UNESCO Creative City Tsuruoka for events, and we're also preparing to launch a course this year for professional chefs. I now serve as chairman of the Japanese Culinary Academy UK, and recently moved into fields completely new to me: a private chef service called eho chef that connects diners with chefs, and a bespoke Japanese chef service called ikisho.
Thinking back, ever since I started up a Japanese restaurant all by myself—deliberately doing something no one else was doing—I realize I've always been fascinated by uncharted worlds. As I embarked on my first visit to Tsuruoka, I felt the same rush of excitement that welled up in me four decades ago, when I was young and ready for anything.
Photos courtesy of Tetsuro Hama