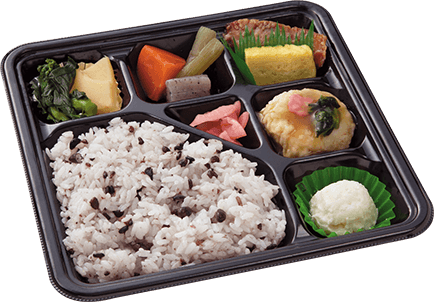 In the last decade, zakkoku rice has become increasingly popular in Japan, particularly among health-conscious urbanites. Zakkoku refers to all varieties of millet, including Japanese millet such as awa and hie. Zakkoku rice is a mixture of white rice cooked with any of these, and is often supplemented with cereal grains such as beans, amaranthus, quinoa and sesame. The term "zakkoku rice" has gradually come to refer not only to a specific mix of rice and millet, but to this more general blend of rice with cereal grains.
Zakkoku

rice is increasingly popular in Japan
The Japanese diet has embraced cereal grains for centuries, but only recently have Japanese consumers become more aware of the advantages of eating white rice with these highly nutritious grains, which provide significant amounts of vitamins, fiber and minerals. Cereal grains usually require some preparation before cooking, but thanks to today's convenient pre-mixed packs, they can be cooked together with rice in a rice cooker. There are over fifteen types of cereal grains, and these are sold in a variety of different combinations: consumers may choose from mixes that contain five, eight or even ten grains and, depending on personal preference, can select grains based on their distinct textures.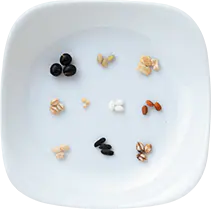 Texture and combinations aren't the only options available. In marketing to Japan's female consumers, some zakkoku mixes are touted as being effective in keeping skin clear and healthy, while other blends claim to be good for dieting. Thanks to greater health awareness, zakkoku rice is eaten not only at home, but in a growing number of restaurants, where diners may choose from a selection of white rice or zakkoku rice. It is not even unusual to find convenience stores and supermarket delis that sell prepared zakkoku rice in bento boxes, or as onigiri rice balls—a sure sign that the zakkoku rice trend shows no sign of slowing.
Vol. 29
Other articles in this series