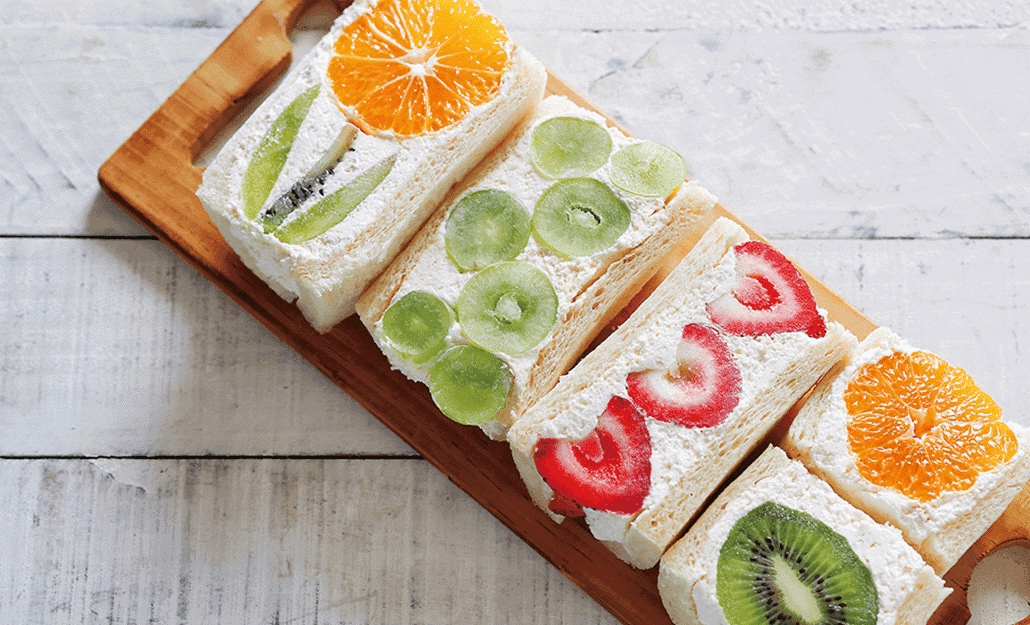 Japan's unique fruit sando—fruit sandwiches—are colorful concoctions comprising slices of shokupan soft white bread filled with whipped cream and chunks of fresh seasonal fruit such as strawberries, muscat grapes, kiwi, bananas, mikan satsuma, peaches or melon. Pretty and tasty, fruit sando are a mix of slightly sweet and tart flavors, perfect for breakfast, lunch or snacks.
Fresh fruit sandwiches were first served in Japanese coffee shops and specialty cafés called fruit parlors as early as in the 1920s. They were presented in classic sandwich style and featured thin slices of fruit. In recent years, the sandwiches have come to include larger pieces of cut fruit and, thanks to today's social media, that fruit is very often arranged in artistic combinations to reveal ingenious visual imagery when the sandwich is cut in half.
Fruit sando
mix the sweet with the tart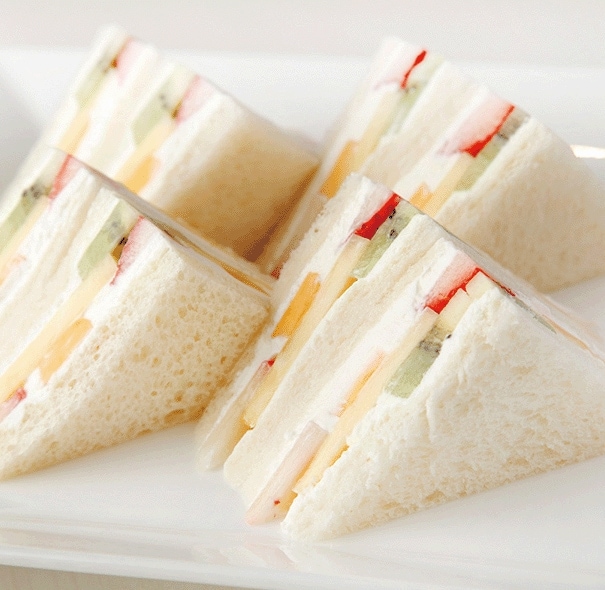 Nowadays fruit sando are sold just about everywhere, including coffee shops, bakeries, supermarkets and convenience stores. They are made by simply sandwiching cut fruit and whipped cream between slices of soft white bread. And while they are easy to make at home, it is tempting to visit stores that specialize in fruit sando featuring attractive presentations and unusual taste combinations. Some bakeries use light, not-too-sweet whipped cream, so as not to overpower the natural sweetness of the fruit. Others fill their sandwiches with custard cream, or cream mixed with mascarpone.
The once-basic fruit sando has been adapting to market trends by incorporating innovative ideas and tastes, winning popularity among a broader range of hungry consumers. As an example, in Japan, high-end "luxury" varieties of fruit are presented on special occasions; now, one can enjoy a decadent fruit sando filled with such exceptional fruit, some of which may cost more than USD10.00-15.00 each. Equally delectable but more affordable options now include vegan varieties or substituting traditional plain white bread with breads kneaded with chocolate or fruit that complements the fillings—suggesting that in whatever form, the fruit sando only continues to please.