April 05, 2019
It is one of Kikkoman's missions to spread the joys of food and connect global food cultures. As part of the effort to set an example as a good corporate citizen, Kikkoman has engaged in many different activities that have made an impact on global society and local communities over the years.
One such example is its over 20-year partnership with the Culinary Institute of America (CIA). In honor of their collaboration and continuing commitment to culinary education, CIA has established the Kikkoman Teaching Kitchen at the college's Hyde Park, New York campus. Culinary students will be given hands-on learning opportunities in a wide range of Asian cuisines with constant donations of Kikkoman's full line of authentic Asian sauces.
"It is with great privilege we join The Culinary Institute of America in fostering culinary education that allows students to explore Asian flavor," said Kikkoman Sales USA, Inc. President and CEO, Masanao Shimada. "Kikkoman is grateful for the opportunity to help influence the next generation of industry leaders."
Kikkoman's relationship with the CIA began in 1997 when the college opened its first branch location in St. Helena, California. The partnership now includes a variety of initiatives, from serving as a member of the Japanese Studies Leadership Council to engaging in the digital collaboration "Asian for a New Generation" online learning module. In addition to product donations and a leadership gift commitment, Kikkoman was an inaugural sponsor of The Culinary Institute of America's Worlds of Flavor® International Conference & Festival. The company proudly continues its support of the conference to bring influential chefs together in search of the latest culinary trends to this day.
Although the Kikkoman Teaching Kitchen will focus on Asian cuisines, Kikkoman's seasonings are used to enhance flavor around the world. Ever since Kikkoman began actively marketing its products globally, it has strived to make soy sauce a part of different food cultures, not just an exotic foreign element. In this way, Kikkoman Soy Sauce has been welcomed and loved in over 100 countries around the world.
Never veering from its commitment to quality, Kikkoman relishes the continuous challenge of finding new ways to contribute to the fusion of soy sauce and Japanese cuisine with local food cultures to fill the world with the joys of food.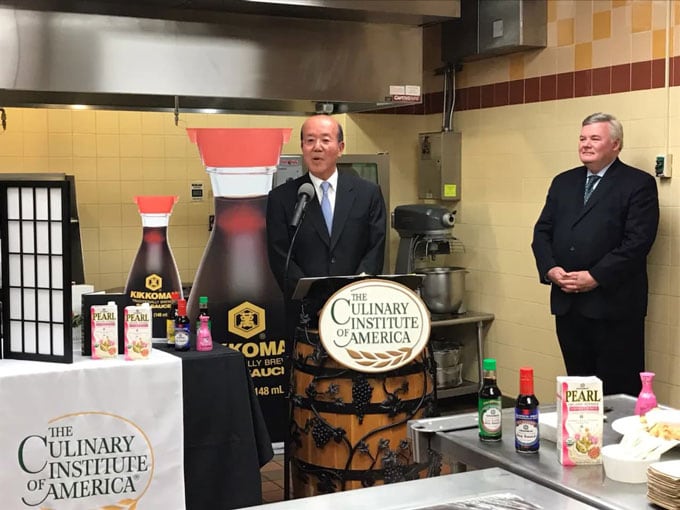 Vol. 33
Other articles in this series