The role of the Intellectual Property Department in the branding strategy of the Kikkoman Group is to provide assistance from legal aspects of acquiring and protecting rights for trademark rights and other rights.
The brand symbolizes the corporate value of the group and the values of products and services provided and are important intangible asset which contributes to business expansion and progress of the group.
Change in number of trademarks owned by the Kikkoman Group in the past five years is as follows.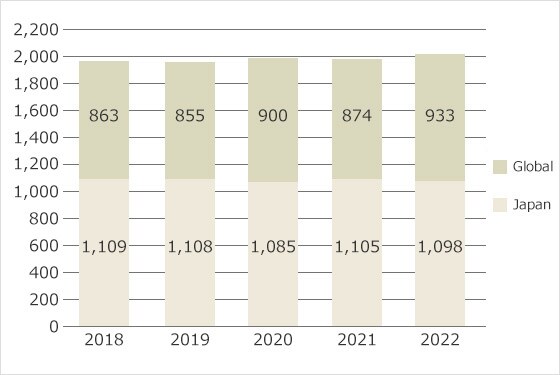 We have executed the review of rights owned in accordance with the life cycle of a product and determined whether to maintain or discontinue it.
Product group brand and product trademark/service trademark
The product trademark and service trademark function as the "face" of an individual product and service differentiated by technology so that customer may select products and services of the Kikkoman Group with ease.
By each product group that has the following product group brand in Japan and by each country selling these products with such group brand as "Pearl® (Soy milk, U.S.A.)", "萬字® (Soy sauce, China)", etc., the company will carry out execution for filing or securing trademark registration and other rights as necessary.
In addition, service brands such as a mail order business of the group company, "健康こだわり便® ", catch phrase of vegetable seedling sale, "育てるをはじめよう。 ® ", etc. are also important intellectual assets that uphold the business of the group.
Example of product trademark: Domestic (® means registered trademark)
Product group brand
Product trademark
Kikkoman
(Soy sauce/Japanese seasoning, etc.)
Del Monte
(Western style seasoning/beverage, etc.)
Manjo
(Mirin (sweet sake for cooking)/cooking wine, etc.)
Manns Wines
(Wine)
Kikkoman Soymilk
(Soymilk, etc.)
Trademark status for "KIKKOMAN" and "Hexagonal Mark"
In 1940, our company unified trademarks in Japan to Kikkoman
Thereafter, as a result of branching out of the Kikkoman Group to overseas, we have executed application and registration for "KIKKOMAN" and "Hexagonal Mark" in each country of the world.
As of March 31, 2023, "KIKKOMAN" and "Hexagonal Mark" were filed or registered in 178 countries and regions (both including Japan).
The situation of application and registration by region is as follows.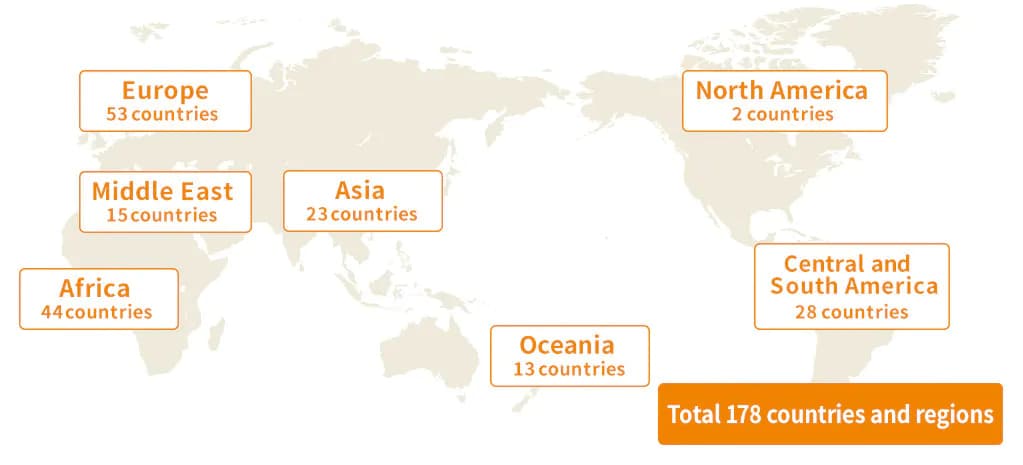 Kikkoman has permanently acquired the trademark and sales rights to Del Monte processed foods in Japan, Asia and Oceania (except in the Philippines) .
Target territories are as follows.