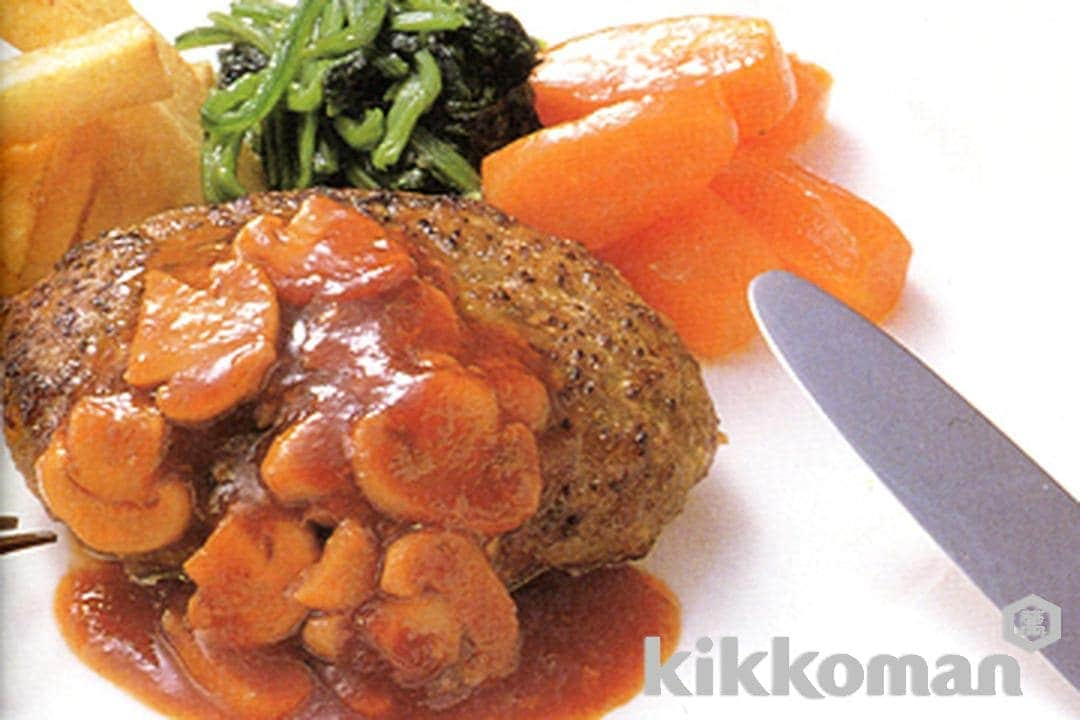 Enjoy with special sauce and side-vegetables. Makes a hearty meal.
Cooking time
45 minutes
Calories
532kcal
Sodium
0.6g
Nutrition facts are for one serving.

Time to cool is not included in the cooking time.
Dice onion, place in a microwave-safe bowl, top with 1 Tbsp butter and heat on high in microwave for 3 minutes. Set aside to let cool.

To make French fries, peel potatoes, cut into strips, then let steep in water for a few minutes. Drain well and deep-fry in medium-heated oil. When golden brown, remove and sprinkle to liking with salt and pepper.

To make spinach saute, first boil spinach in lightly salted water. Drain and squeeze to remove excess water. Cut into 3-4 cm (1 1/2 inches) bits and squeeze again to remove excess water. saute slightly with butter, 1 Tbsp water and a pinch of salt and pepper.

To make glazed carrots, peel and slice carrot and steep slices in water for a few minutes. Place carrot slices in a sauce pan, add enough water to just cover them, add 1 Tbsp each of butter and sugar, then salt to taste. Cover and bring to boil on high heat at first, lowering the heat to low and cook slices until soft. Finally, raise heat to high and cook until most of the moisture is gone and the carrots are glazed.

To make Salisbury steaks, first combine ground meat (1) with panko(Japanese bread crumbs) and ingredients from (A). Mix by hand until sticky. Divide into four servings, form into patties and gently toss into palm of hand to remove air pockets.

Press a small indentation into the middle of patties. Coat frying pan with a small amount of salad oil (separate from listed amount), pour out excess oil once hot, then add additional 1 Tbsp of salad oil to pan.

Cook patties over medium heat, turning once when one side is golden brown. Cover pan, occasionally shaking back and forth to keep patties from sticking, and cook until patties are cooked all the way through. Remove and serve.

To make the sauce, add ingredients from (B) and undrained canned mushrooms to patty drippings in pan and bring to boil. Serve french-fries (2), spinach saute (3) and glazed carrots (4) along with Salisbury steaks, topping steaks with the above sauce.
Post your creation!
Kikkoman Global (@kikkoman_global)
is posting Kikkoman Recipes.
If you made this recipe, please post it with the hashtag #KikkomanLife
We love to see your creations on Instagram!