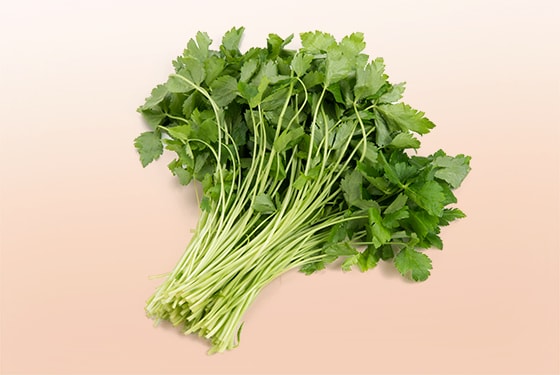 A herb native to Japan that has a subtle aroma
A delicate herb packed with carotene and vitamin C, sometimes called the "Japanese herb" as it is native to Japan. It is widely used as an added topping on savory chawanmushi or clear broth soups, as well as in "nabe" hot pots, salads, and tempura.
"Mitsuba" (Japanese parsley) contains beta carotene which is known to protect the body from oxidation due to reactive oxygen, and vitamin C which works to promote beautiful skin and the immune system.
For best results, cut off the roots and wrap the base of the stems in a wet paper towel, then place into an airtight container and refrigerate to store. The herb will keep longer this way, but it is better to consume quickly as the general aroma is best when fresh.
A herb that grows wild in the mountains and has a long history of use as a food ingredient. Cultivation began in earnest in the 1700s, which is when it spread throughout Japan.