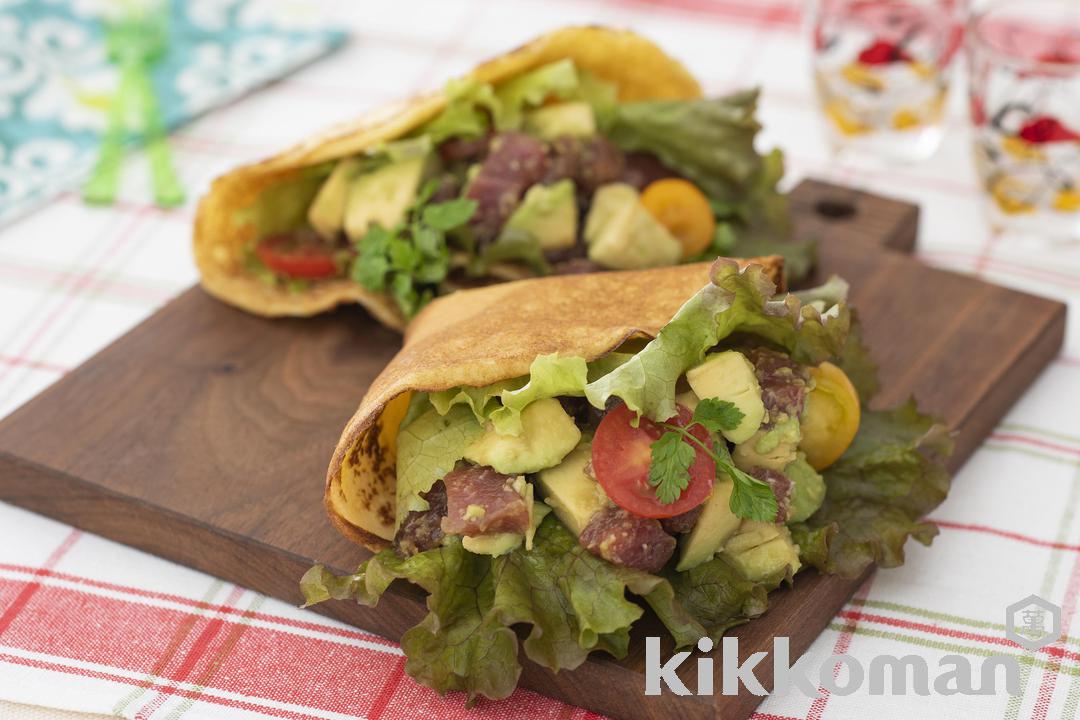 A dish that perfectly combines Western and Japanese elements
Cooking time
30 minutes
Calories
544kcal
Sodium
0.3g
Nutrition facts are for one serving.

This recipe uses ingredients for raw or semi-cooked consumption.
To avoid food poisoning and to safely enjoy home-cooked meals, we ask you to adhere to the guidelines provided by your local Food Safety Information Center for the procurement, storage, cooking and other preparation methods of food ingredients.

Nutritional values do not include salad oil, wasabi paste or chervil.
Cut the tuna and avocados into 1 cm (1/2 in.) cubes. Cut the cherry tomatoes into quarters.

(A) Make the crepe batter. Put eggs and granulated sugar in a bowl and mix well. Add 40 ml (2-3/4 Tbsp) of milk and mix lightly. Then add flour and mix together. Add the remaining milk in 3-4 portions and continue to mix.

Heat the oil in a frying pan, pour half of the batter (2), spread it thinly and cook over medium heat. Flip it over and brown both sides.

Put the tuna and avocado in a bowl, add Kikkoman Soy Sauce and wasabi and mix well.

Put the lettuce, tuna and avocado on the crepe (2), wrap it in a triangle, and garnish with cherry tomatoes and chervil.
Post your creation!
Kikkoman Global (@kikkoman_global)
is posting Kikkoman Recipes.
If you made this recipe, please post it with the hashtag #KikkomanLife
We love to see your creations on Instagram!