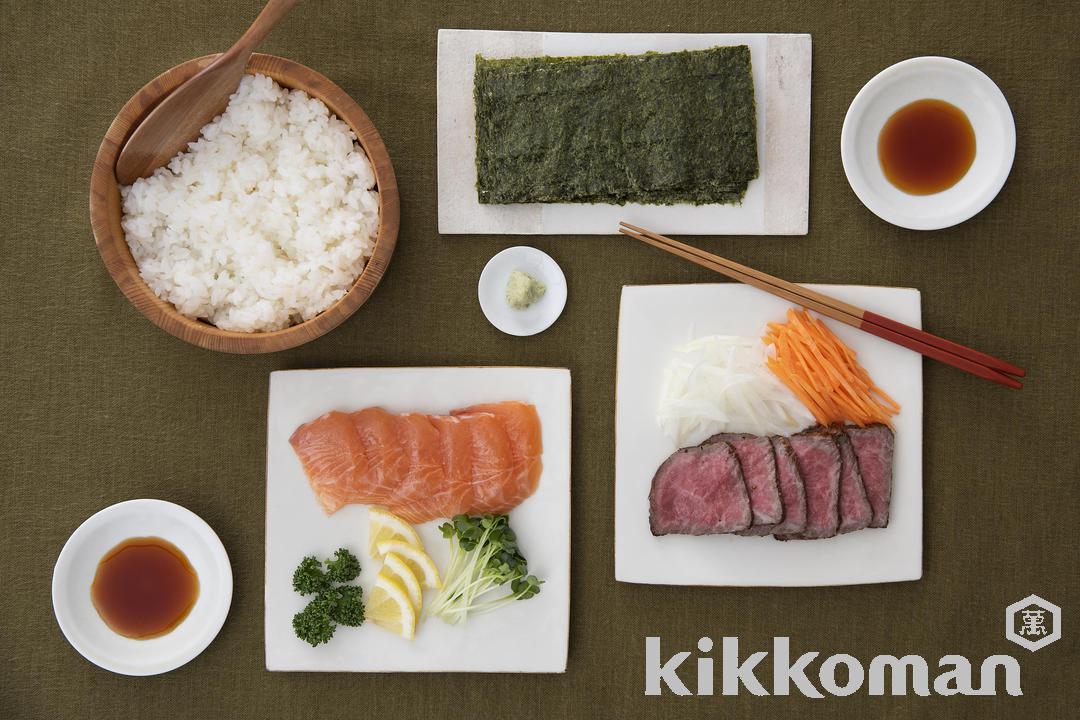 Great for hosting guests!
Cooking time
30 minutes
Calories
485kcal
Sodium
1.0g
Nutrition facts are for one serving.

This recipe uses ingredients for raw or semi-cooked consumption.
To avoid food poisoning and to safely enjoy home-cooked meals, we ask you to adhere to the guidelines provided by your local Food Safety Information Center for the procurement, storage, cooking and other preparation methods of food ingredients.
Bring the beef to room temperature, then rub the surface with salt and pepper. In a fry pan with heated oil, cook each surface of the beef block for 1 minute, then wrap in two pieces of aluminum foil. Wipe the fry pan, then place the wrapped beef inside for 10 minutes.

Mix the sushi vinegar with the rice and allow to cool. Slice up the salmon. Thinly slice the onion, and julienne the carrot. Cut the lemon into quarter slices.

Cut the meat into easy-to-eat pieces and serve together with the other ingredients. Use the seaweed to wrap up your preferred ingredients and enjoy with wasabi and soy sauce.

* Feel free to use pre-prepared roast beef.
Post your creation!
Kikkoman Global (@kikkoman_global)
is posting Kikkoman Recipes.
If you made this recipe, please post it with the hashtag #KikkomanLife
We love to see your creations on Instagram!