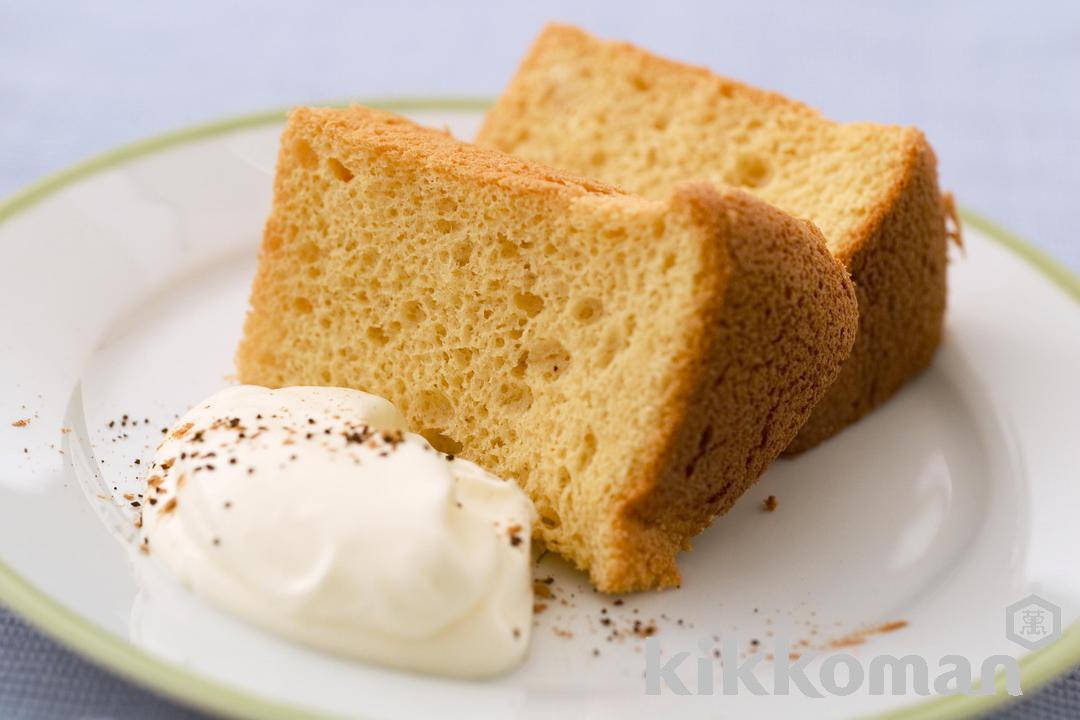 A chiffon cake with a ginger kick and the rich flavor and aroma of soy sauce.

Cooking time

70 minutes
Calories

189kcal
Sodium

0.2g
Nutrition information is for one serving.

This recipe makes one 17 cm (6.5 inch) chiffon cake.

Dust a cake pan lightly with flour (extra).

Sift together the cake flour, baking powder and cinnamon, then sift once more.

Use a handmixer to mix together the egg yolks and 50 g (1.8 oz.) of granulated sugar until the mixture becomes almost white.

Mix together the vegetable oil, soy sauce, ginger juice and 2 Tbsp of water.

In a separate bowl, whip the egg whites, add in 30 g (1.1 oz.) of granulated sugar and whip further until a stiff meringue has been achieved.

Blend (4) into (2) using a wooden spoon. Add in (5) and quickly combine the ingredients using a rubber spatula.

Pour (6) into (1), and bake in an oven at 170°C (338°F) for about 40 minutes.

Turn the cake pan upside down and allow to completely cool before removing.

Divide the cake, then serve on plates with a side of the whipped cream and a sprinkle of cinnamon.