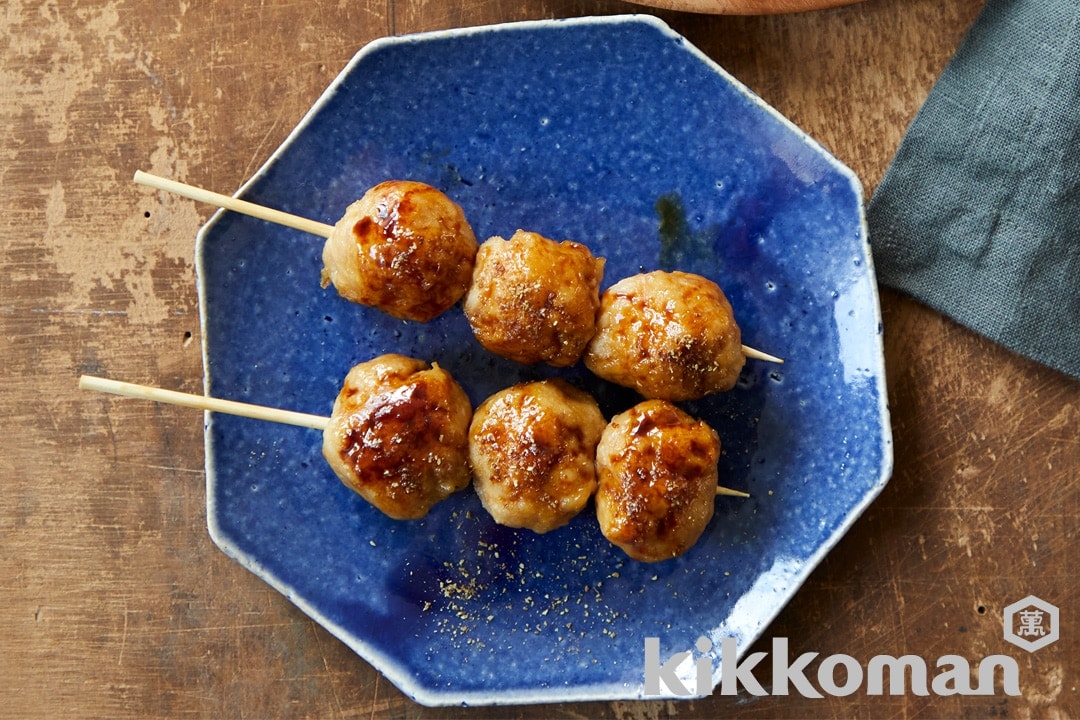 Kids also love these plump and juicy chicken meatballs (tsukune).
Cooking time
40 minutes
Calories
316kcal
Sodium
1.3g
Nutrition facts are for one serving.
Please use stainless steel skewers for grilling and barbequing.
Prepare the soy basting sauce (called 'tare' in Japanese). Place (A) in a pot over medium heat, once boiling simmer for up to 30 seconds until the mixture thickens.

Cut the chicken up into easy-to-eat pieces and then place into a food processor to mince. Add in all remaining ingredients and mince the mixture once again in a food processor. Place a small amount of vegetable oil (not included in recipe ingredients) in the palm of your hand and shape the mixture into easy-to-eat balls (12 to 18 meatballs).

Boil some water in a pot and boil the chicken meatballs (called 'tsukune' in Japanese). When the sunk meatballs have risen to the top, boil these for an additional 2~3 minutes to cook thoroughly. Drain and once cooled place 3 each onto skewers.

Place the vegetable oil in a fry pan over medium heat and arrange (3) in the fry pan. While turning over occasionally, brown both sides. Cover in the soy basting sauce from (1) and return these to the fry pan, cooking over low heat until lustrous. Repeat this process several times while turning over and cook until crispy and golden-brown.
Recipe

Junko Ueda

Styling

Misa Nishizaki

Photo

Taku Kimura
Post your creation!
Kikkoman Global (@kikkoman_global)
is posting Kikkoman Recipes.
If you made this recipe, please post it with the hashtag #KikkomanLife
We love to see your creations on Instagram!