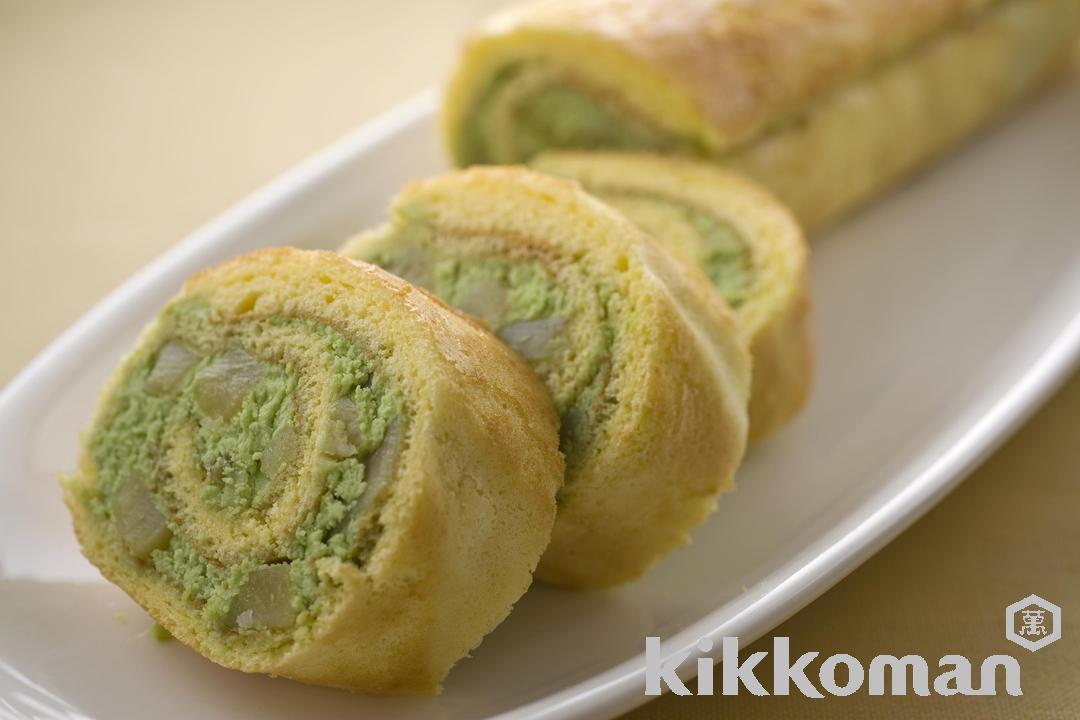 A cake roll with Japanese matcha green tea and candied chestnuts.


Cooking time

25 minutes +
Calories

200kcal
Sodium

0.0g
Nutrition facts are for one serving.

Sodium 0 g indicates sodium content less than 40 mg.

Time to cool, set and chill are not included in the cooking time.

Ingredients for one 28 x 28 cm/11 x 11 in. baking sheet.
If you are concerned about mirin's alcohol content, heat in a heat-resistant bowl in a microwave for 10 seconds at 600W before using.
※If using roasted chestnuts instead of candied chestnuts, add 1/2 to 1 Tbsp of sugar to (B).

Roughly chop up the chestnuts.

Place the eggs and sugar into a bowl, use a mixer over a warm water bath to mix until whitish in color.

Add the vegetable oil to (2), then add a mixed together (A). Sprinkle in the pancake mix, use a rubber spatula to quickly mix in.

Line the baking sheet with parchment paper, pour (3) evenly in, and bake in an oven at 170C (338F) for 15 to 18 minutes. Bake until lightly golden, remove and allow to cool.

Use a mixer to whip the heavy cream, add in (B) halfway and mix for a further 8 minutes or until soft peaks are achieved, then add and stir in (1).

Remove the parchment paper from (4), place onto the parchment paper once more and use a knife to even off the edges.

Spread on (5), with the parchment paper roll up from the nearest edge. Making sure the end of the roll is facing downwards, place the cake roll into a refrigerator for about 30 minutes to set and chill. Cut into easy to eat slices and serve onto plates.