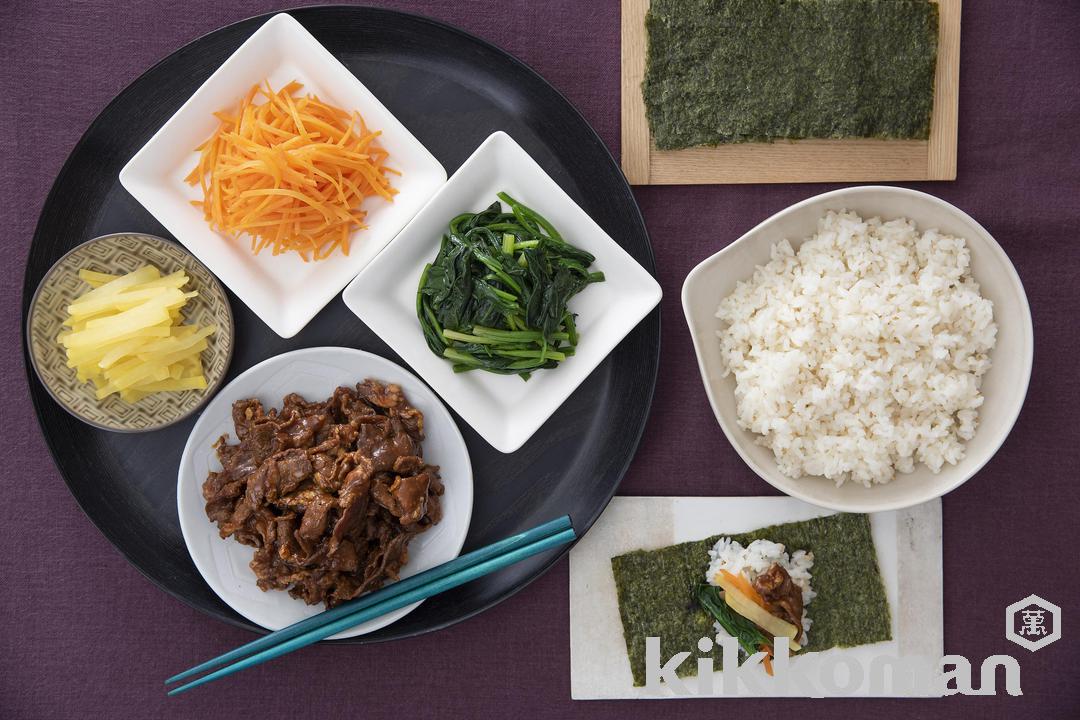 Kimbap is a popular Korean dish of sesame-seasoned rice easily rolled up in seaweed with beef and other ingredients.
Cooking time
40 minutes
Calories
689kcal
Sodium
1.0g
Nutrition facts are for one serving.

The pickled daikon radish and the small amount of salt were not included in the calculation of nutritional values.
Heat the oil in a fry pan and cook the beef. Add in (A) and continue to cook while boiling off excess moisture.

Julienne the carrot, and saute in sesame oil heated in a fry pan. Once softened, turn off the heat, add in and dress the carrots with (B). Boil the spinach then place into ice cold water. Squeeze out excess moisture, chop into easy to eat lengths, then dress with (C). Thinly slice up the yellow pickled daikon radish. Add (D) to the cooked rice and combine well.

Place the rice and your selected ingredients onto the edge of a sheet of yakinori seaweed and roll up together to enjoy.
Post your creation!
Kikkoman Global (@kikkoman_global)
is posting Kikkoman Recipes.
If you made this recipe, please post it with the hashtag #KikkomanLife
We love to see your creations on Instagram!