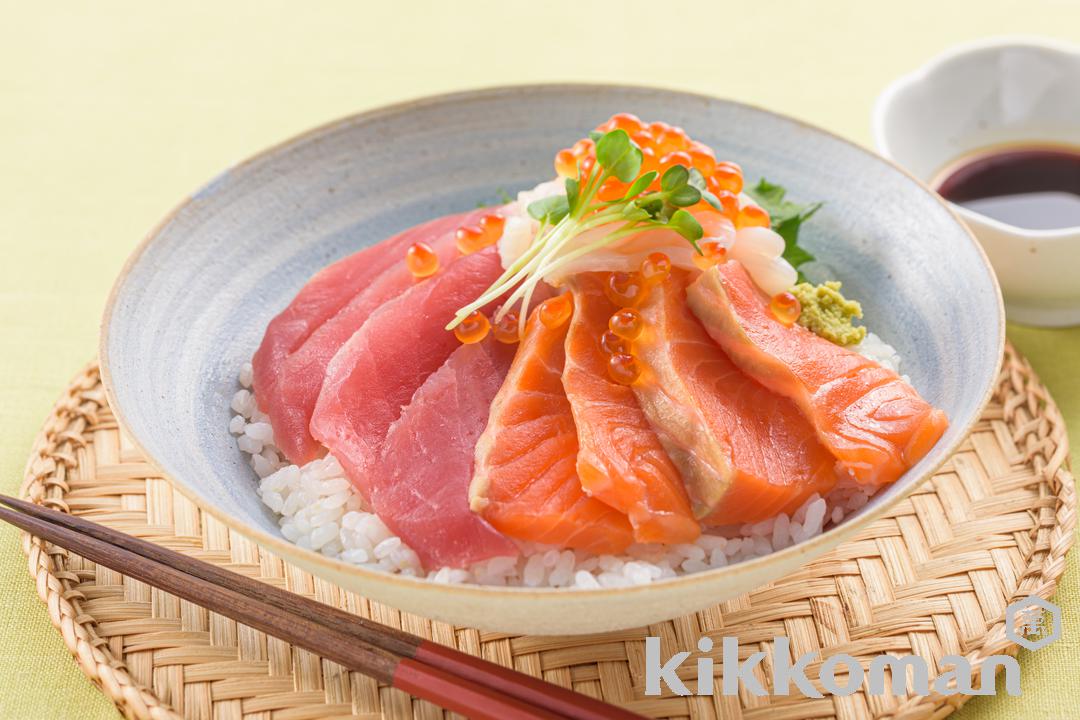 Enjoy this seafood rice bowl with the refreshing flavor of soy sauce!
Cooking time

15 minutes +
Calories

857kcal
Sodium

0.8g
Nutrition facts are for one serving.

Nutritional values calculated for consumption of 1 tsp of soy sauce per serving.

Time required to cook the rice is not included in the cooking time.

Time to cool is not included in the cooking time.
This recipe uses ingredients for raw or semi-cooked consumption.
To avoid food poisoning and to safely enjoy home-cooked meals, we ask you to adhere to the guidelines provided by your local Food Safety Information Center for the procurement, storage, cooking and other preparation methods of food ingredients.
Mix (A) into the still warm cooked rice vertically in a cutting manner (to prevent mushiness) and use a hand held fan (uchiwa in Japanese) to fan and cool to prepare the sushi rice.

Slice the tuna and salmon into about 7 mm (0.3 in.) thick pieces and julienne the squid.

Serve (1) into rice bowls, top with the perilla leaves, (2) and the salmon roe. Garnish with the daikon radish sprouts and serve with a side of soy sauce and wasabi paste.