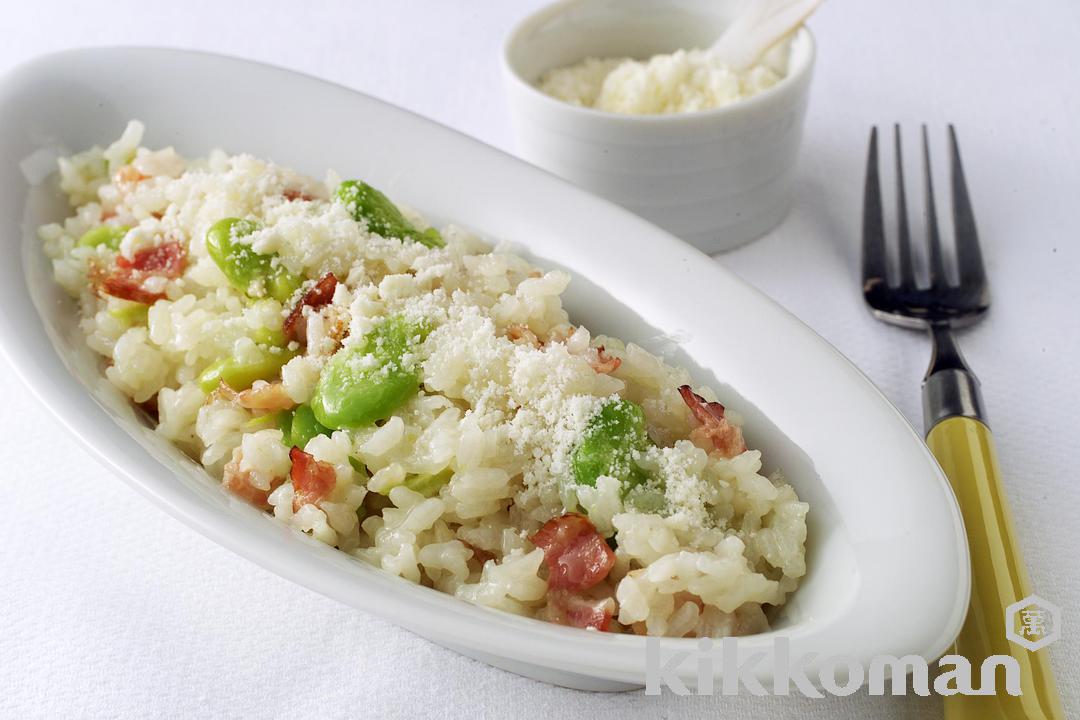 Broad beans simmered with fluffy rice.
Cooking time

40 minutes
Calories

525kcal
Sodium

0.6g
Nutrition facts are for one serving.
Remove the broad beans from pods, peel off the outer skin and boil with a small amount of salt. Cut the bacon slices into 1 cm (0.4 in.) width pieces.

Mix together (A) and warm to prepare the broth.

Place the olive oil, bacon and onions into a pot and slowly saute over medium heat for 5 to 6 minutes. Once the bacon is crispy, add in the uncooked rice.

Once the rice becomes translucent, add in 100 ml (3.4 fl. oz.) of the broth and the broad beans. Periodically combine ingredients from the bottom of the pot to allow the rice to soak up the broth. Once boiled down, add in some of the remaining broth and repeat this process 3 to 4 times until all the broth is used.

After simmering for about 15 minutes, and with the rice remaining somewhat firm, add and mix in the butter and parmesan cheese. Simmer for a further 4 to 5 minutes until thick and creamy.
Broad beans - removing from pod
Broad beans - peeling off the thin skin