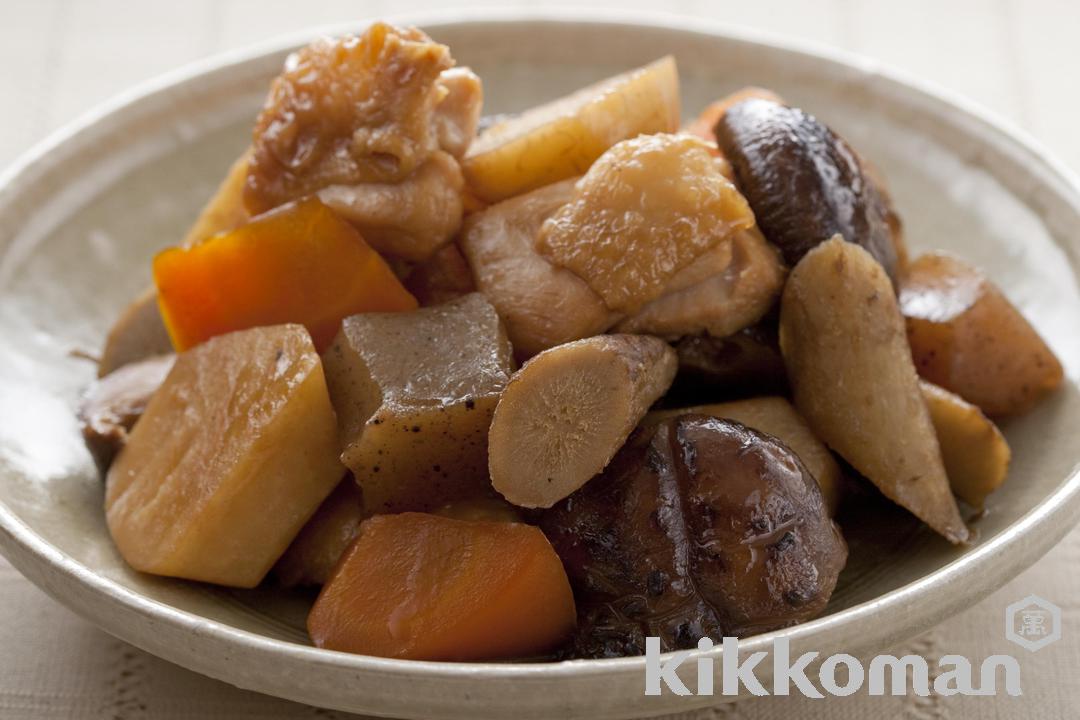 Mix the cooking liquids throughout for deep flavor.
Cooking time

25 minutes +
Calories

321kcal
Sodium

0.8g
Nutrition information is for one serving.

Time to rehydrate the dried shiitake is not included in the cooking time.

Cut the chicken thigh into bite-size pieces.

Rehydrate the dried shiitake in water, remove the stems and slice each in half.

Roughly chop up the carrot. Scrape off the burdock root with a brush or knife, roughly chop up and place in water.

Use a spoon to tear the yam cake into bite-size pieces, massage in a pinch of salt (not included in ingredients) then rinse with water. Peel the taro roots and chop into large chunks, also massage these with a pinch of salt and rinse off any sliminess.

Heat a pot and add in half of the sesame oil, sauté (1) then remove and cover in (A) while still hot.

Pour the remaining sesame oil into the pot and sauté (3), add in (2) and (4) and sauté together. Add in the bonito stock and (B), place a drop-lid on top and simmer over medium heat for 10 minutes.

* A drop lid is a lid that floats on top of the liquid in pots/pans while simmering foods. It allows heat to be evenly distributed so ingredients cook evenly and quickly. You can purchase one, or make a substitute out of aluminum foil.

Return (5) to the pot with the seasoning and simmer for a further 7 to 8 minutes. Remove the lid and turn up the heat to boil off some liquid, then mix the cooking liquids throughout.